Looking for the best way to manage money for your home or business–for free?
If you're using an old-fashioned system, it's time to modernize your finances (it's easy, I promise!).
Having an efficient system saves time, makes it easier to monitor expenses, and helps you achieve financial goals.
Here's a review of 3 of the best free financial tools to revolutionize how you manage money for your home or business:
Tool #1: Mint.com
Mint is a free online financial software that makes it easy to understand what's going on with your money.
It's a dashboard that pulls in updated data from all of your financial accounts–like bank accounts, credit cards, loans, and investments–into one place with one password.
Mint is a completely secure connection to all your accounts because it simply reads your data. No one (not even you) can move money between accounts or make a financial transfer.
What's great about Mint is that it automatically organizes your spending into categories—like food, gas, clothes, and rent—and shows you where your money goes in easy-to-understand charts.
You can create spending levels for each category and Mint keeps you on track with email and mobile alerts, bill reminders, and more. You can also set financial goals within Mint and you'll get "simple steps for getting there, along with free advice, gentle reminders, and encouragement."
Tool #2: FreshBooks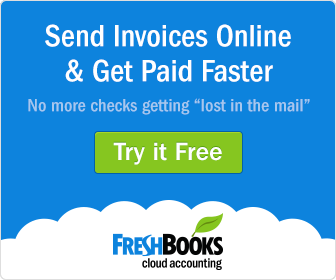 FreshBooks is online accounting software for your small businesses. Over 5 million people have used this service to track time, organize expenses, and invoice clients.
It's a simple interface that's easy to use–even if you don't understand accounting.
You can securely connect FreshBooks to your financial accounts, import your transactions automatically, and stop entering data manually–which saves a huge amount of time.
Click here to take a tour of FreshBooks and get started!
Tool #3: Mvelopes
Mvelopes is an award-winning online budgeting system that helps you look to the future to manage money.
It's easy to create a budget, track all your spending, and always know exactly how much you have left to spend. You can get started using the Mvelopes Basic plan that's free.
You can upgrade to a Premier plan for $9.95 a month or $95 a year and get additional tools, like an unlimited number of accounts, automatic bill pay, unlimited envelopes, transaction alerts, and 24/7 live chat support.
Use this free download to compare the best banks: Online Bank Comparison Chart (PDF)